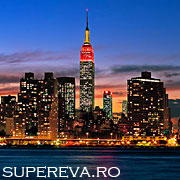 Jurnal de calatorie – New York – ep.7 (si ultimul)
Ultima zi in New York a fost una de
plimbare.. Din cauza cetii din ultimele zile si a vremii
inchise, tot amanasem vizita pe Empire State Building din
pacate nici ultima zi nu a fost una mai buna din punctul de vedere al vremii
inca de dimineata ceata plana desupra orasului.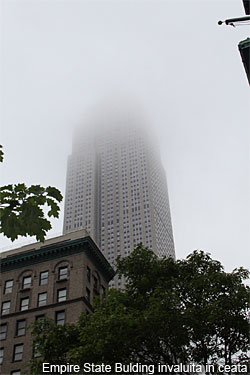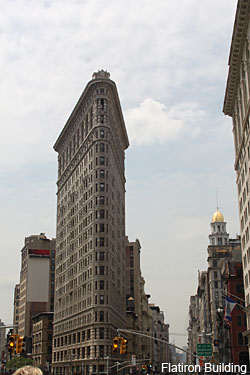 Cu toate astea, am hotarat sa urcam si sa vedem ce se poate.. dar inainte de
a ajunge la cladire am facut o mica plimbare pe 5th Avenue. Am pornit dinspre
celebra cladire cu arhitectura triunghiulara, Flatiron
Building.
Original denumita Cladirea Fuller, a fost terminata in 1902
(la vremea respectiva era printre cele mai inalte cladiri din oras) si se afla
la intersectia dintre 5th Avenue, Broadway si 22nd St. Flatiron
Bulding marcheaza inceputul Ladies Mile Historic District (un district care
cuprinde 440 de cladiri si care in perioada dintre Razboiul Civil si Primul
Razboi Mondial gazduia unele din cele mai faimoase magazine universale ca Lord
& Taylor sau Bergdorf Goodman). Si aceasta cladire este National Historic
Landmark (din 1989).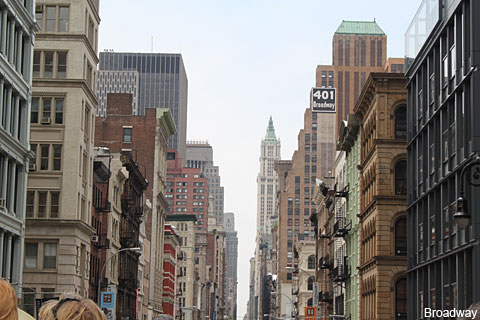 Cladirea a fost gandita ca un Palazzo Renascentist (dar pe
verticala), in stilul Beaux-Art, de catre arhitectul Daniel Burnham. Cladirea
are 22 de etaje (incluzand un Penthouse) si aproximativ 87 m inaltime. In
prezent cladirea adaposteste birourile centrale ale mai multor edituri.
Pe 5th Avenue se gasesc faimoase boutiquri de
moda magazine ca Louis Vuitton, Tiffany s, Gucci, Prada,
Fendi – sunt numai cateva din ele. Si totusi criza ultimilor ani a lovit si 5th
Avenue am vazut multe locatii "for rent".
Tot pe 5th Avenue se gaseste si un imens magazin Apple, dar si magazinele
universale (de lux) Lord&Taylor, Bergdorf, Saks sau Barney s, dar tot aici
poate fi gasita si Biblioteca Publica din NY.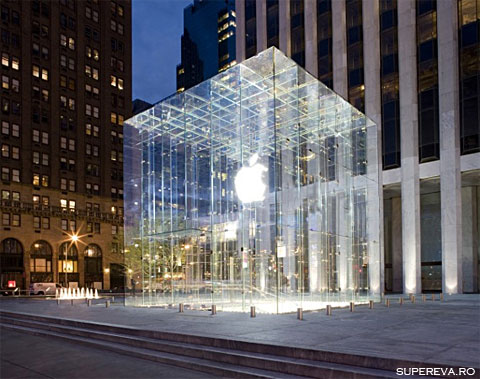 De asemenea, 5th Avenues este ruta traditionala a celor mai celebre Parade
din New York: St.Patricks Day Parade sau Macy s Thanksgiving Day Parade.
La intersectia dintre 5th Avenue si strada 34 se
gaseste Empire State Building. Construita pe locul fostului
Hotel Astoria (care la randul lui fusese construit pe locul fostei case a lui
Caroline Schermerhorn Astor). Declarata National Landmark in 1986, cladirea are
102 etaje si este a treia cea mai mare cladire (zgarie-nori) din SUA . Mai mult
de 40 de ani a fost cea mai inalta cladire din New York (de la terminarea ei in
1931) si a fost depasita de cladirea World Trade Center; insa dupa atentatul din
11 septembrie 2001, cand WTC s-a prabusit a devenit din nou cea mai inalta
cladire din New York.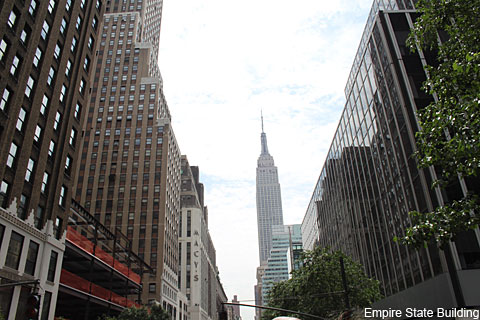 Cladirea a fost construita in 16 luni – la ea au lucrat mai mult de 3400 de
muncitori, in marea lor majoritate emigranti din Europa dar si foarte multi
muncitori amer-indieni (tribul Mohawk) adusi dintr-o rezervatie de langa
Montreal. Si aceasta constructive a facut parte din cursa pentru construirea
celei mai inalte cladiri din NY (va mai amintiti de Chrysler Building si de
Trump Plaza si ele participante in aceasta cursa.). Castigatoarea cursei a
fost evident Empire State Building.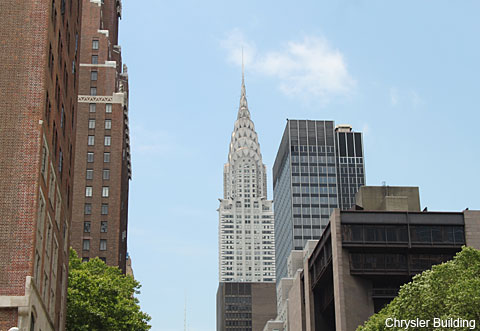 Inaugurarea oficiala a cladirii a avut loc pe 1 mai 1931 cand presedintele
SUA Herbert Hoover a aprins luminile de pe fatada printr-o apasare de buton
tocmai din Washington D.C.! Ca o coincidenta amara, tocmai luminile de pe varful
cladirii au fost folosite in anul urmator pentru a anunta Victoria presedintelui
Roosevelt asupra contra-candidatului H. Hoover.
Cladirea a fost prima din lume care a numarat peste 100 de
etaje din 2007 cladirea este a doua din lume cea mai mare cladire de
birouri apartinind unei singure entitati (prima fiind Pentagonul) peste 21000
de angajati vin zilnic la munca aici.
Dar sa ma intorc la vizita noastra.. Pentru ca era o ceata
densa care nu permitea admirarea New York-ului de la inaltimea Empire State
Bulding, am ales mai intai sa vedem filmuletzul exista un cinematograf gen
Imax un ecran foarte mare, putine fotolii care sunt mobile proiectia
reprezinta o vizita cu elicopterul deasupra New Yorkului. Senzatia este una
indeajuns de reala privesti ecranul de foarte aproape, fotoliul se misca cu
tine ca si cum ai fi in elicopter si ai admira totul de acolo pentru noi a
fost dragutz pentru mezinul meu nu& dar cel mare a savurat experienta.
Dupa film am urcat pina sus pe acoperis desi biletul avea inscris pe el
(disclaimer tipic American) vizibilitate zero . Tot ce pot spune ca
experienta personala este ca vizita pe Rockefeller Top of the Rock nu poate fi
prea curand detronata .
Ne-am intors la hotel devreme aveam de facut bagajele. A doua zi de
dimineata am preluat masina inchiriata si am pornit catre urmatoarea noastra
destinatie: capitala SUA, Washington.
Si m-am mai gindit sa va mai spun si pe scurt,
citeva lucruri care m-au frapat/impresionat pe mine la New
York:
– Femeile neworkeze, intr-o majoritate covarsitoare, poarta non-stop papuci
tip flip-flop – am vazut femei imbracate business, casual, ba chiar si elegant
la un moment dat (se pregateau sa ia cina de dinainte de spectacolul pe
Broadway) dar care in picioare aveau flip-flop-shi
– In New York zgomotul este o constanta permanenta – poate singururl loc in
care zgomotul se opreste/estompeaza este Central Park
– Traficul, fie el auto sau pietonal nu seamana cu nimic din ce am vazut eu
prin capitalele europene – bine, nu stiu ce capitala europeana mai are in mijloc
de oras drumuri cu minim 4 benzi pe un sens
– Impartirea strazilor mi s-a parut cea mai simpla cu putinta ca sa nu mai
amintesc de cat de predictibila este (esti pe strada 7 – sigur dupa ea urmeaza
strada 8 intr-un sens si strada 6 in sens invers!)
– imposibil sa te ratacesti in NY, dupa umila mea parere
– New Yorkul mi s-a parut neasteptat de curat – vorbesc desigur de partile
batute de turisti – e drept insa ca educatia s-a facut cu amenzi usturatoare
– Magazinele din NY pentru mine au fost Raiul pe pamant..atita diversitate de
produse, atitea posibilitati de alegere, nu am intilnit nicaieri in Europa –
incepind cu magazinele alimentare si terminind cu cele de haine – as fi stat ore
intregi numai ca sa privesc fiecare obiect de pe raft
– Si mi-a mai placut ceva – mi s-a parut ca new yorkezii nu au uitat
niciodata de unde au plecat, ca au fost odata foarte saraci si ca orasul intreg
a fost construit pe munca emigrantilor..
Cititi intreg Jurnalul:
Jurnal de
calatorie – New York – ep.1

Jurnal de calatorie – New York –
ep.2

Jurnal de calatorie – New York – ep.3

Jurnal de
calatorie – New York – ep.4

Jurnal de calatorie – New York –
ep.5

Jurnal de calatorie – New York – ep.6

Jurnal de
calatorie – New York – ep.7 (si ultimul)
Mai multe detalii despre New York veti gasi
aici:
http://www.iloveny.com/
http://www.nycgo.com/
America de Nord

Santa Fe, New Mexico,
USA

Top 10 obiective turistice in New
York

Regiunile de coasta si alte atractii
turistice in Oregon

7 atractii turistice de vis in
California
America Latina

Top 10 atractii turistice in
Brazilia

Machu Picchu sau natura imblanzita
de om

Luna de miere in Republica
Dominicana

Havana comoara vie a
Cubei

Forum unde comentam cu
placere