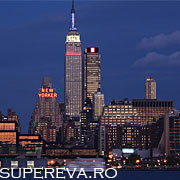 Jurnal de calatorie – New York – ep.4
Ziua a 4 a inceput cu cer innorat si cu ceva
ceata motiv pentru care am amanat sa urcam pe Empire State
Building si am hotarat sa vizitam locul unde odata s-au inaltat cele doua
turnuri gemene distruse in atacul terorist de la 11 septembrie si apoi sa ne
plimbam pe Wall Street si sa respiram aerul incarcat de bogatie.
Cu o zi inainte descoperisem langa hotel o
locatie Dean and Deluca (poate va mai amintiti serialul de pe
TVR de acum cativa ani Felicity??) unde in sfarsit am gasit un mic dejun asa
cum ne-am dorit cu omleta, croissante proaspete, muffins cu afine, cappuccino
bun (cu spuma de lapte!), ciocolata calda si gogosi, ultimele doua articole
preferatele copiilor.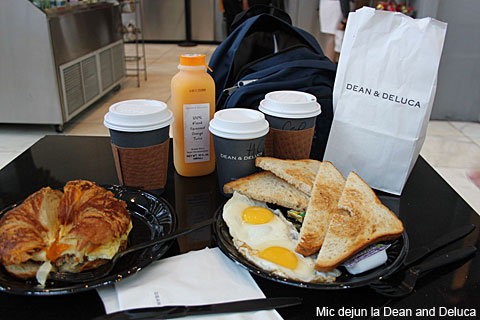 Prin urmare, cu burta plina, am pornit catre
Ground Zero. Mare lucru nu poate fi vizitat in momentul asta
exista un proiect ambitios care include un Memorial (despre
care exista in SUA o mare dezbatere mass-media intrucit se pare ca va exista o
taxa de 25 de usd pentru vizitare prin urmare cei care si-au pierdut acolo o
ruda sau un prieten, ar urma sa plateasca 25 de usd ca sa comemoreze persoanele
disparute in acel loc ) ce se vrea inaugurat in septembrie anul acesta. Pe locul
gemenilor se va ridica un ansamblu de cladiri care va avea in centru cladirea
World Trade Center inaltimea ei va fi aproximativ aceeasi cu
cea a fostului WTC; ca element aditional va avea o antena, ceea
ce va face ca inaltimea totala a cladirii sa fie de 1776 de picioare, adica
egala cu anul in care s-a semnat Declaratia de Independenta a SUA. Acestei
cladiri i se vor mai adauga inca 5 turnuri, plus Memorialul.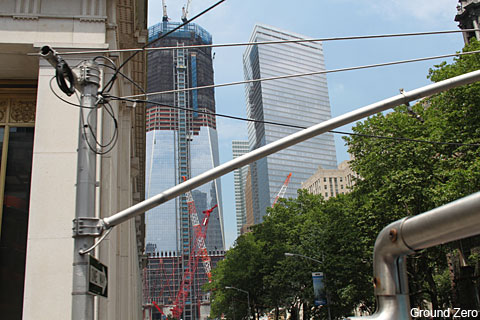 Nu am sa insist mult asupra acestui loc oricum s-a scurs multa cerneala pe
tema atacurilor teroriste tot ce spune este ca in acest loc am simtit multa
tristete, motiv pentru care nu am zabovit mult in zona.
Mergand pe jos, intr-o plimbare lejera, am ajuns la capatul altei strazi
faimoase: Wall Street.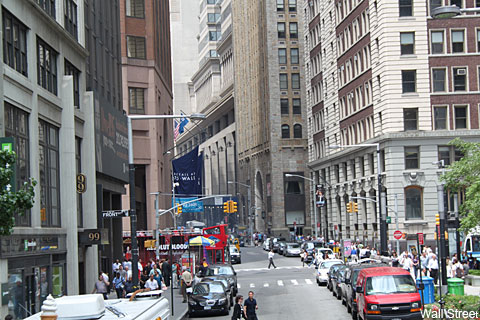 Wall Street este de fapt
denumirea generica a districtului financiar din New York si in acelasi timp este
adresa Bursei de Valori din New York (New York Stock Exchange sau
NYSE) cea mai mare (v-ati obisnuit déjà cu superlativele in NY, nu??)
bursa de valori din lume (criteriul fiind capitalizarea pietelor companiilor
listate la NYSE). Acesta este locul unde s-a declansat marea criza financiara
din octombrie 1929, la scurta vreme dupa ce un mare economist scolit la Yale, pe
numele sau Irving Fisher, asigura investitorii ingrijorati ca banii sunt in
siguranta pe Wall Street (stiti expresia cu dormiti linistiti ? probabil de
aici vine inspiratia ).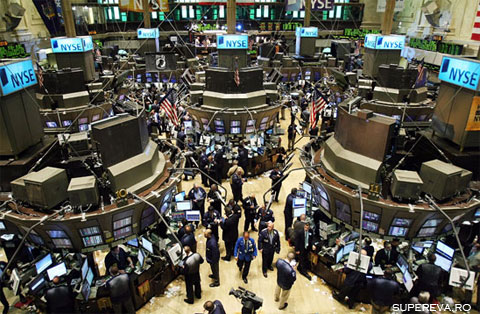 Wall Street este putin atipica fata de restul strazilor din NY este foarte
ingusta, aproape ca poti spune ca nu are trotuare si este marginita de cladiri
inalte strada se termina in Trinity Church o cladire veche in stil gotic (cu
serviciu inca activ) care pare orecum artificial pastrata intre atatea cladiri
modern.
Pe linga cladirea NYSE, Wall St gazduieste alte
cladiri emblematice:
– Federal Hall – de fapt cladirea din prezent a fost
construita pe locul originalei Federal Hall daramata in 1812, locul unde George
Washington si-a depus juramantul de presedinte in 1789 si locul unde a fost
introdusa pentru prima oara Constitutia (respectiv primele 10 amendamente)
Bill of Rights in Primul Congres al SUA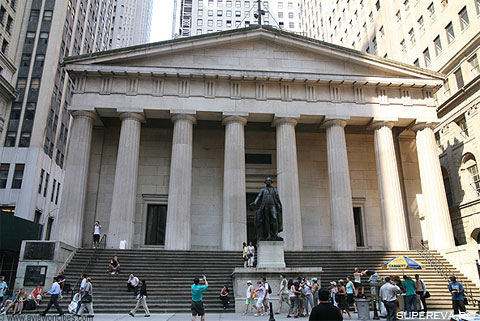 – Bankers Trust Buildings un zgarie-nori cu o terminatie
ciudata
– am inteles ca inspiratia pentru aceasta terminatie a fost
Mausoleul din Halicarnas (una din cele 7 Minuni ale Lumii
Antice) , respectiv varful clopotnitei bisericii St. Mark din Venetia. Bankers
Trust, pentru care aceasta cladire a fost construita, a adoptat mai tarziu
piramida ca simbol al sau.
– Trump Building construita in numai 11 luni, aceasta
cladire a fost la inceput sediul Bank of Manhattan Trust, devenita mai tarziu
Chase Manhattan Trust si cunoscuta acum sub numele de Cladirea Trump. Cladirea a
facut parte dintr-un fel de cursa de a construi cea mai inalta cladire din lume
planul era sa fie cu un picior mai inalta decat cladirea Chrysler, la vremea
respectiva cea mai inalta cladire din lume. Insa Walter Chrysler nu s-a lasat
in secret, constructorii sai au asamblat in interiorul cladirii Chrysler o
antena/spirala lunga de 38 m pe care mai apoi au montat-o pe cladire, distrugand
astfel recordul de inaltime tocmai stabilit de Trump Building si linistind
orgoliul domnului Chrysler.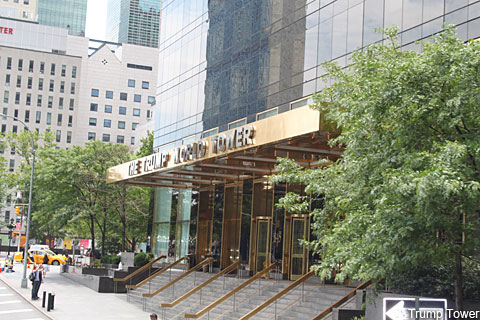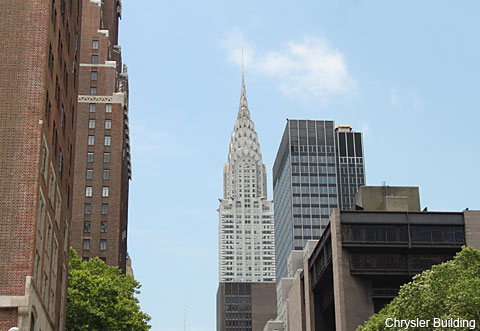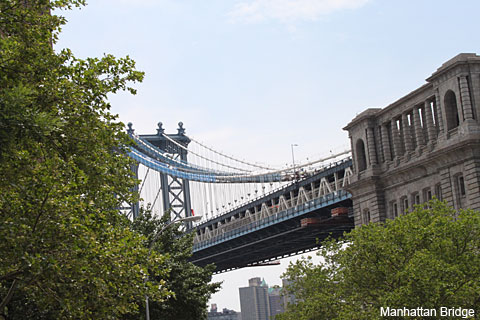 – Sediul din SUA al bancii Deutsche Bank ultima mare banca
de investitii care are inca sediul central pe Wall St.
Si evident nu puteam sa nu mentionez ca tot pe Wall Street se afla si un
sediul Tiffany s (locatia principala, cea din celebrul film cu
Audrey Hepburn Mic Dejun la Tiffany si se afla pe 5th Avenue)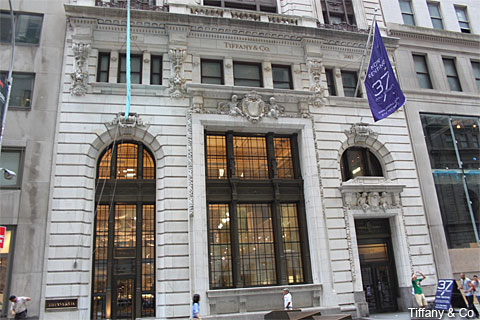 Dupa ce am mancat prin apropiere, ne-am indreptat catre Seaport
District ca sa luam un taxi acvatic.
Cititi intreg Jurnalul:
Jurnal de
calatorie – New York – ep.1

Jurnal de calatorie – New York –
ep.2

Jurnal de calatorie – New York – ep.3

Jurnal de
calatorie – New York – ep.4

Jurnal de calatorie – New York –
ep.5

Jurnal de calatorie – New York – ep.6

Jurnal de
calatorie – New York – ep.7 (si ultimul)
Mai multe detalii despre New York veti gasi
aici:
http://www.iloveny.com/
http://www.nycgo.com/
America de Nord

Santa Fe, New Mexico,
USA

Top 10 obiective turistice in New
York

Regiunile de coasta si alte atractii
turistice in Oregon

7 atractii turistice de vis in
California
America Latina

Top 10 atractii turistice in
Brazilia

Machu Picchu sau natura imblanzita
de om

Luna de miere in Republica
Dominicana

Havana comoara vie a
Cubei

Forum unde comentam cu
placere