Fara indoiala,
piciorul Angelinei a fost vedeta premiilor Oscar, furand cu succes toata atentia
publicului.
Dar, in timp ce actrita de 36 de ani, ar putea fi dornica
sa treaca peste acest eveniment al membrului supraexpus, restul lumii nu este
chiar de aceeasi parere.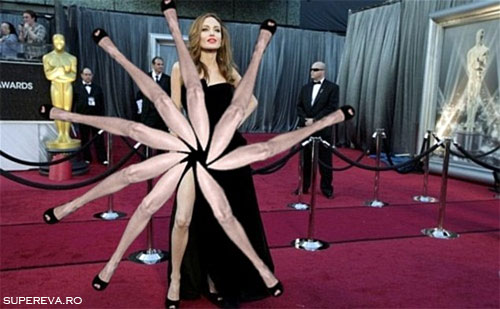 Cu toate acestea, piciorul suplu al Angelinei Jolie a
fost tinut acoperit ieri, intr-o pereche de pantaloni si cizme, cand actrita
si-a intrat in drepturile materne, fiind ocupata de cumparaturi alaturi de
gemenii Vivienne si Knox, in Beverly Hills.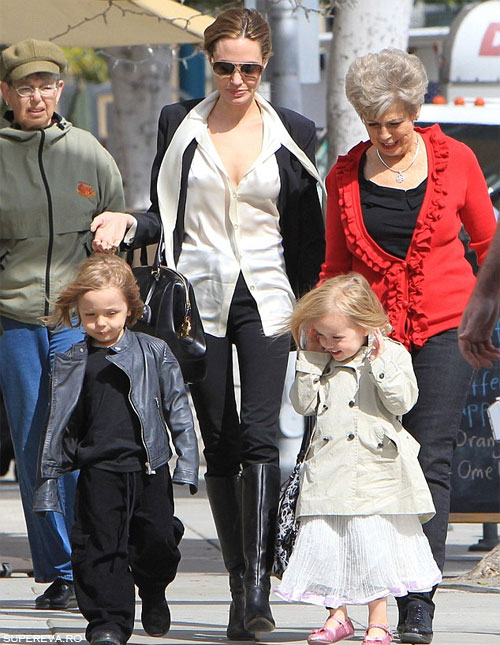 Bloggerii si artistii au avut timp suficient sa se
distreze cu si pe seama piciorului Angelinei… fiind photoshopat in fotografii
bine cunoscute si opere de arta.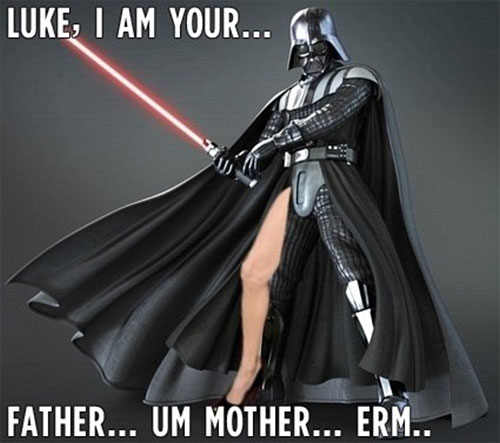 Darth Vadar, Statuia Libertatii si mama lui Whistler sunt
cativa dintre beneficiarii "piciorului"…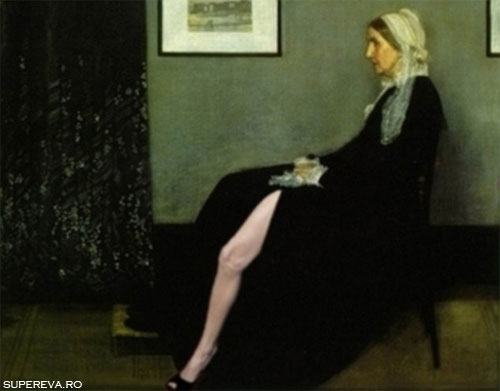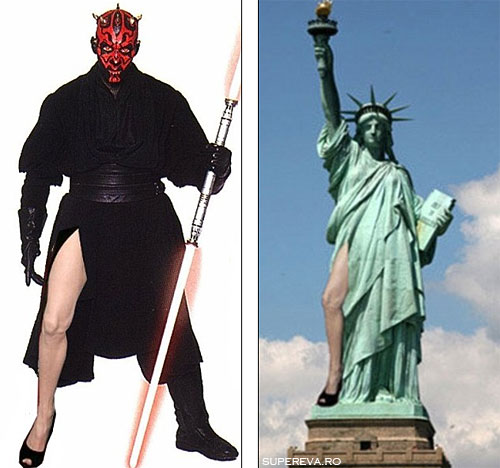 Chiar si jumatatea ei, Brad Pitt a primit un
"tratament" Photoshop, mai precis personajul sau din filmul Interview with the
Vampire.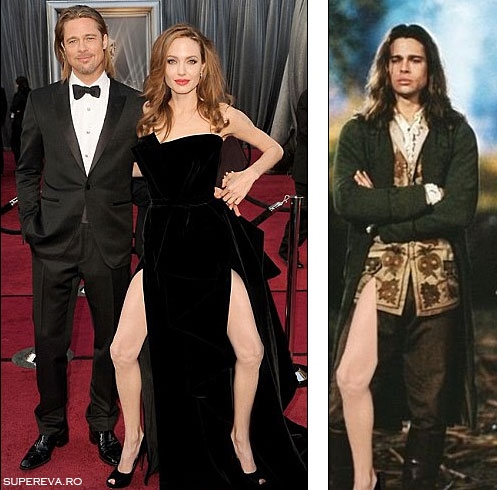 "Piciorul" apare desigur si pe coperta albumului Beatles
Abbey Road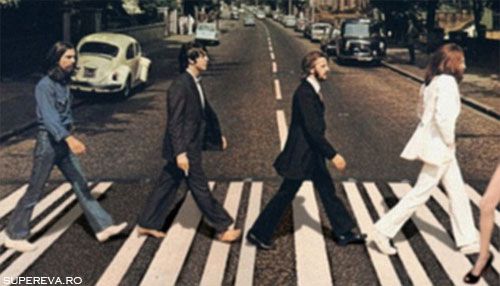 In timp ce a pozat in diferite pozitii pe covorul
rosu, actrita a avut mereu grija sa isi aranjeze rochia Atelier Versace, astfel
incat camerele sa ii poata surprinde piciorul.
Piciorul in cauza a devenit rapid un subiect trend pe
Twitter, unde utilizatori dezbat infocati aspectul membrului, care pare totusi
putin ciudat. Nu a durat mult timp pana sa apara si un cont pe Twitter numit
"Angie's Right Leg" (Piciorul drept al Angelinei).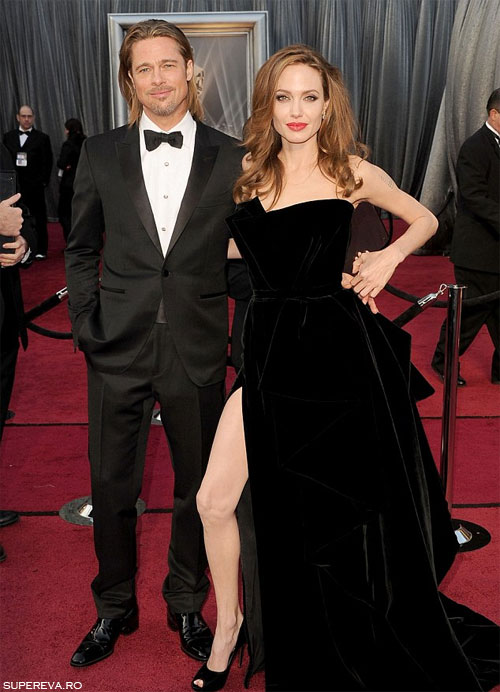 Fotografia originala: piciorul
supraexpus al Angelinei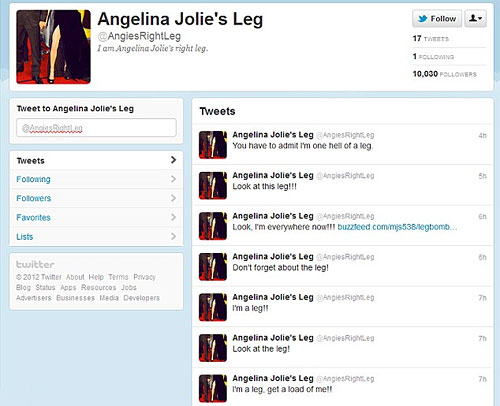 Distractia a inceput totusi devreme, cand scenaristul Jim
a copiat intr-un mod hilar pozitia in care Angelina a prezentat un premiu pe
scena inaintea lui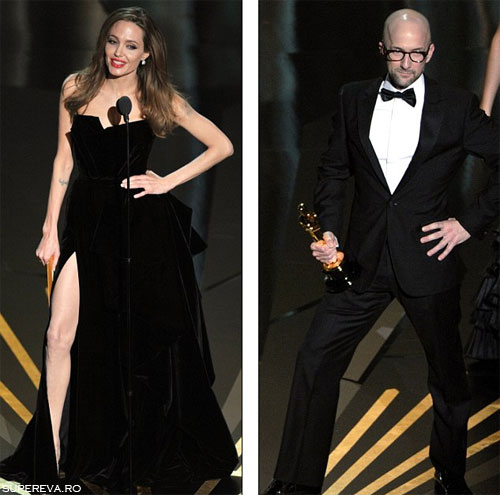 Si pentru
a continua intr-un spirit interesant, analizati si Lady Gaga si ALBUMUL tinutelor ei EXTRAVAGANTE !

Dar si albumul celor53 de tinute ridicole la Paris Fashion
Week
Va recomandam sa mai cititi si:
Trup frumos

Binkini inventia care
promite un fund de invidiat

Ce fac daca unghiile mele au devenit
urate?
Vergeturile si tratamentul
lor

Cremele autobronzante, mereu cu culoarea
verii

Slabeste si rasfata-te iarna asta cu ciocolata si
scortisoara!

Extensiile de par

Lupta natural impotriva
celulitei

Trucuri pentru a manca mai
putin

Frumusetea XXL invinge prejudecatile
designerilor

Exista crema anticelulitica
ideala?

Somnul si kilogramele in plus

Sportul da un sentiment de
satietate

Ingrijirea pielii: ingrediente benefice si ingrediente
nocive
Ghidul frumusetii peste 40 de ani

Efectele colagenului asupra
pielii

Botoxul invins de veninul de sarpe ultima inovatie
pentru combaterea ridurilor

Buzele ne fac sa aratam mai
tinere

Frumusete la 40 de ani – un ghid cu sfaturi
esentiale

Reinventati-va machiajul!

Coafura in centrul atentiei

Luptati cu ridurile!

Zambetul secretul frumusetii
eterne

Forum unde comentam cu
placere

Moda si Fitze…