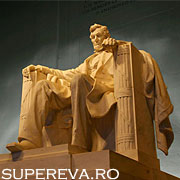 Jurnal de calatorie – Washington (1)
Am pornit catre Washington pe
la ora 10 am luat micul dejun, am ridicat apoi masina (am facut
un upgrade de masina fata de ce rezervasem noi
ne-am dat seama ca intr-o masina sedan nu o sa ne incapa bagajele& ) si am iesit
relative usor din New York, catre autostrada.
Nu cred ca am apucat sa va spun despre autostrazile pe care am mers –
cred ca sunt visul oricarui sofer obisnuit doar cu Europa: nu cred ca am vazut
mai putin de 4 benzi pe vreuna din ele, la care oricum se adauga minim o banda
de viteza pentru pull-car (adica o masina in care calatoresc mai multi oameni
de obicei colegi de serviciu, in ideea de a economisi carburant si de a nu
creea aglomerari de masini in trafic). Iar cind se apropia o statie de taxare de
exemplu, am numarat si 8 benzi pe sens!! (si cine a fost in weekend catre
Constanta stie ce inseamna sa ai multe statii de taxare& ). Si inca ceva
unele statii de taxare nu aveau neaparat personal operant la toate booth-urile
cele mai multe iti cereau suma exacta (in monezi) pe care le aruncai intr-o
palnie si apoi puteai pleca mai departe&
Drumul pana la Washington e foarte frumos, chiar
si numai vazut de pe autostrada; noi ne-am si oprit la un outlet pentru
o mica sedinta de shopping si evident si sa luam pranzul. Planul ne-a fost
insa putin dat peste cap de o amenintare cu bomba care a facut ca magazinele
sa se inchida cit ai clipi din ochi& Dupa ce am fost condusi afara din
restaurantul unde mancam (literalmente ni s-a spus sa iesim in acel moment din
magazin!), am fost apoi condusi (si inchisi& ) in cel mai apropiat magazin si
intr-un tirziu sfatuiti sa ne indreptam spre parcare si sa parasim incinta cit
de repede putem& Noroc ca noi cam terminasem cumparaturile, asa ca am pornit din
nou la drum.
In Washington (de fapt pe centura orasului) am intrat pe
seara GPS-ul fiind de mare ajutor, sau asa credeam atunci& asta pentru ca s-a
dovedit ca sistemul de strazi din Washington ne-a dovedit, si pe noi si pe GPS-ul
nostru& Noi veneam super-incantati de sistemul de strazi din NY unde orientarea este
simpla si usoara ei bine, totul devine foarte complicat in Washington sau
asta este impresia pe care ne-a lasat-o aceeasi strada se numeste intr-un
fel pina la un punct, apoi se numeste altfel, iar dupa o vreme isi reia
numele initial& Teoretic totul ar trebui sa fie simplu strazile pe diagonala (asta
privind pe o harta& ) poarta nume de state americane, cele de la est
la vest au nume de litere (din alfabet) si cele de la nord la sud poarta
nume de numere&
Cert este ca ne-am invirtit 2 ore prin oras, pe centura, iar prin oras si intr-un
tirziu am nimerit strada si hotelul& déjà eram rupti de oboseala, iar
copiii dormitau& Hotelul a fost o surpriza placuta (Carlyle
Suites) camera mare + o chicineta total utilata (cuptor cu microunde, frigider,
prajitor de paine, cafetiera, plita de aragaz, chiuveta + tacimuri, tigai
si oale) care ne-a prins foarte bine pentru micul dejun. In apropiere am descoperit
(a doua zi desigur) un magazin Safeway, asa ca ne-am si mobilat
frigiderul! O alta surpriza placuta a fost parcarea gratuita a hotelului.
A doua zi de dimineata ne-am
trezit fresh si cu planul gata facut : vom vizita
National Mall
. Contrar parerii romanesti, National Mall nu este un
super-magazin, respectiv asa se numeste ansamblul (de fapt este un parc national
in aer liber) care incepe cu Lincoln Memorial si se termina la Capitoliu,
cuprinzand West Potomac Park si Constitution Gardens. Ni s-a spus ca peste 24 de
milioane de turisti viziteaza anual National Mall – mi s-a parut o cifra
astronomica (oare dna. Udrea are pe undeva astfel de obiective de atins in
programele dumneaei turistice???)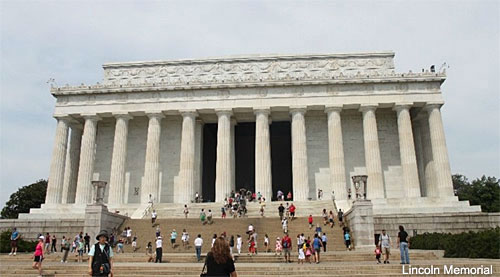 Intrucit de la hotel am aflat ca cel mai usor
mijloc de locomotie este taxiul
(ca pret si ca timp evident), ne-am urcat intr-unul. Era destul de devreme cind
am ajuns noi la Lincoln Memorial ziua era una superba, insorita si inca nu era
asa de cald (in fine, problema nu este atit caldura, cit umezeala care o
insoteste) dar déjà era ceva lume pe treptele Memorialului.
Mi s-a parut o constructie monumentala, strivitoare ca dimensiuni, iar
statuia presedintelui Lincoln este ceva colosal. Memorialul este construit in
stilul templelor grecesti (coloanele dorice, cine isi aminteste de la istoria
antica??) si a fost construit in cinstea celui de-al 16-lea presedinte al SUA,
Abraham Lincoln. Accesul in Memorial este permis 24 de ore din 24, cladirea
fiind printre favoritele Institutului American de Arhitectura.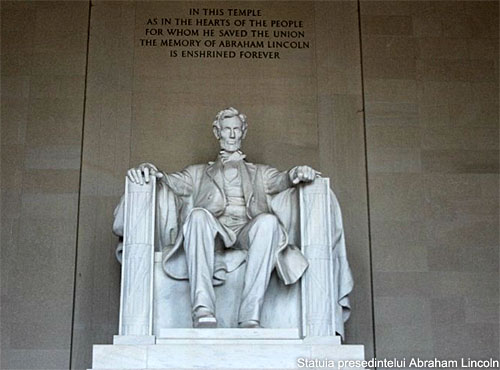 Statuia lui Abraham Lincoln (sculptor Henry
Bacon) are aproape 6m inaltime - daca Lincoln ar sta in
picioare, statuia ar avea peste 8.5m inaltime! In spatele statuii, pe perete,
este gravat un epitaf in memoria presedintelui compus de Royal Cortissoz: IN
THIS TEMPLE AS IN THE HEARTS OF THE PEOPLE FOR WHOM HE SAVED THE UNION THE
MEMORY OF ABRAHAM LINCOLN IS ENSHRINED FOREVER (In traducere libera: in acest
templu, ca si in inimile oamenilor pentru care el a salvat uniunea, memoria lui
Abraham Lincoln este pastrata cu sfintenie, pentru totdeauna).
De pe treptele Memorialului privelistea este
superba - in mod normal privelistea
este subliniata (si intregita as spune eu) de "reflecting pool" o
piscina decorativa (cea mai mare din Washington, unde exista mai multe astfel de
monumente) care din pacate in iunie 2011 a intrat in renovare acum apa era
inexistenta si intreaga piscina era un mare santier.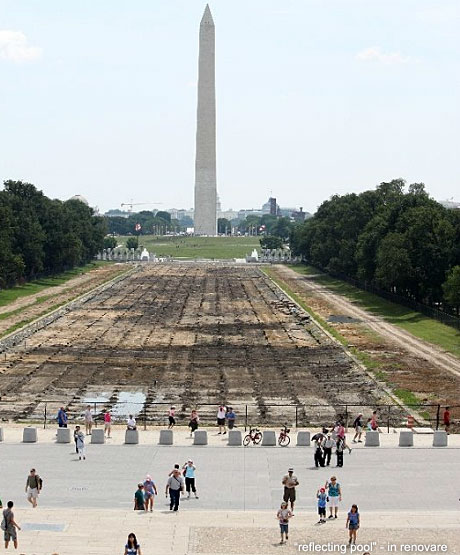 Memorialul Lincoln este in principal un simbol
(si un loc sacru in acelasi timp) al luptei pentru drepturile civile
- este locul unde, in 28 august 1963, peste
250,000 de oameni au ascultat faimosul speech: I have a dream al
doctorului Martin Luther King Jr.
De la Lincoln Memorial am
pornit la pas prin parc. Am trecut pe linga
Monumentul Eroilor din Vietnam. Langa Monument, un grup de voluntari lustruia
marmura pe care stau inscrise numele tuturor eroilor cazuti la datorie si cu
mare solicitudine raspundeau la orice intrebare pusa de turisti.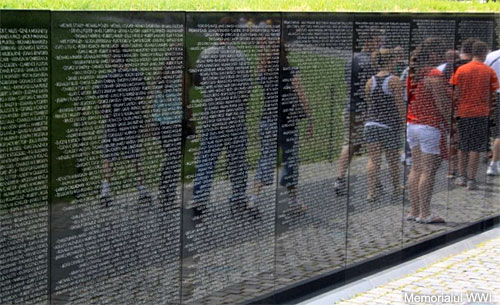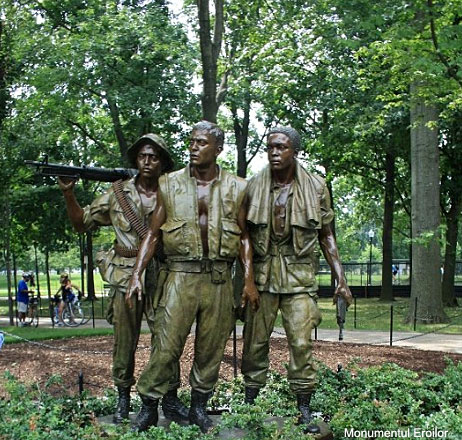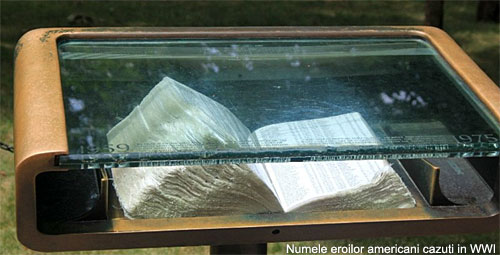 Copiii mei, in schimb, erau mult mai interesati de numeroasele veverite
semi-imblanzite care impanzeau parcul. Tudor, cel putin, era fascinat era
prima oara cand vedea veverite asa de aproape si isi imagina ca ele vor sta
chiar pe loc sa le mangaie.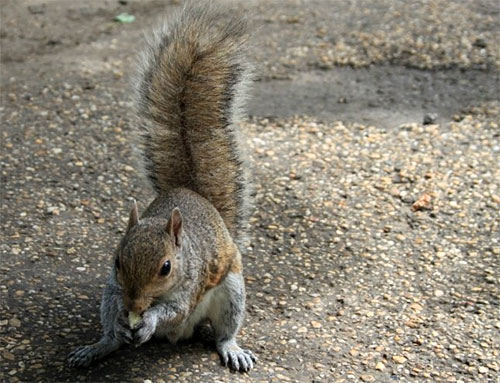 In curand am ajuns la monumentul ridicat in partea diametral opusa
Memorialului Lincoln, asa-numitul west-end, Memorialul Eroilor cazuti in Al
Doilea Razboi Mondial. Monumentul este de fapt un ansamblu de 56 de stalpi
(inscriptionati cu numele statelor americane) dispusi semi-circular si in mijloc
o fantana arteziana. Catre sud si catre nord mai exista doua arcuri care leaga
stalpii reprezentand cele doua oceane, Atlantic si Pacific (numite Atlantic
Arch si Pacific Arch).
Pentru noi (si nu numai) acest monument a reprezentat o oaza de racoare asa
ca am stat sa ne reculegem citeva minute bune.
Plimbarea din prima zi am
incheiat-o la Casa Alba , resedinta presedintelui
SUA. Spre deosebire de resedintele ambasadorilor americani din strainatate eu
am vazut citeva din ele, in marile capitale europene si ma gindesc ca mai toate
arata cam la fel care sunt super-pazite, la multe din ele nu ai acces in
imediata vecinatate aceasta pare sa fie total deschisa curiozitatii
turistilor. Ne-am facut poze inclusiv asezati pe gardul resedintei si nu am fost
singurii, ca sa nu mai spun ca pe strada din fata (inchisa totusi circulatiei
auto) era o ampla manifestare pro-Siria. Evident nu sunt atat de naiva incat
sa-mi imaginez ca obiectivul nu este supra-supravegheat insa eu vorbesc de
aparenta pe care o lasa si anume ca resedinta si prin extensie desigur si
institutia prezidentiala este foarte tangibila, foarte aproape si deschisa
catre public.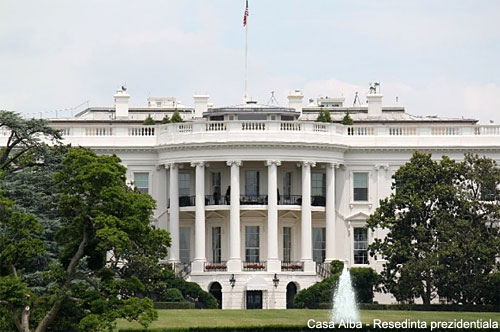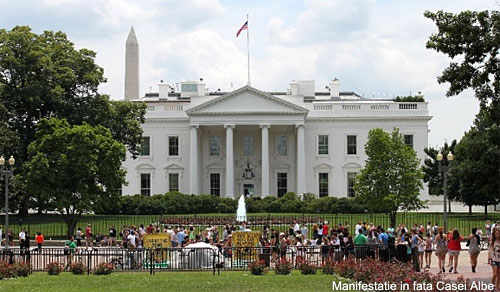 Pentru ca déjà picioarele copiilor cedasera, ne-am luat
un bilet valabil 2 zile pe orice linie (din cele trei disponibile rosu,
galben, albastru) a autobuzului supraetajat Washington Sightseeing (Hop-on
Hop-off). O paranteza: la Washington, toate
muzeele au intrarea libera, fara plata
, insa aceste tururi
cu busurile turistice mi s-au parut foarte scumpe biletul valabil 48 de ore,
per familie, a fost aproximativ 100 de dolari.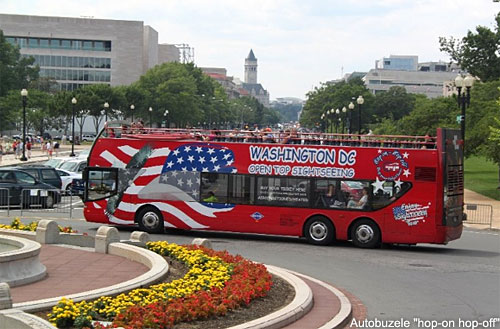 Cele trei linii acopera cam tot ce este de vazut in Washington linia rosie
(grand) este cea mai lunga si cuprinde cam toate monumentele din National Mall
(incepe si se termina la Union Station), linia galbena acopera partea veche a
orasului Georgetown si multe hoteluri , iar ultima, linia albastra acopera
Cimitirul Arlington si Pentagonul. In ziua aceea am luat linia galbena pentru ca
ne-a lasat in Dupont Circle, foarte aproape de hotel.
In respectiva seara urma sa facem o vizita unei prietene care locuieste
intr-o suburbie a Washingtonului asa ca ne-am intors la hotel, am luat masina si
am plecat. De ajuns am ajuns foarte usor (gps-ul sa traiasca!!) insa seara, la
intoarcere, am patit fix la fel ca in prima seara, adica iar nu am nimerit
strada si tot vreo 2 ore ne-am invirtit pina am nimerit hotelul…
Cititi Jurnal de calatorie in
New York:
Jurnal de calatorie
– New York – ep.1

Jurnal de calatorie
– New York – ep.2

Jurnal de calatorie
– New York – ep.3

Jurnal de calatorie
– New York – ep.4

Jurnal de calatorie
– New York – ep.5

Jurnal de calatorie
– New York – ep.6

Jurnal de calatorie
– New York – ep.7 (si ultimul)
America de Nord

Santa Fe, New
Mexico, USA

Top 10 obiective
turistice in New York

Regiunile de coasta
si alte atractii turistice in Oregon

7 atractii
turistice de vis in California
America Latina

Top 10 atractii
turistice in Brazilia

Machu Picchu sau
natura imblanzita de om

Luna de miere in
Republica Dominicana

Havana comoara
vie a Cubei

Forum unde comentam cu
placere